Police in mid-western Uganda are holding six people including former Fort Portal City Mayor Rev Kintu Willy Muhanga on charges of inciting violence and unlawful assembly.
The six were arrested on March 29 after they moved in some parts of Fort Portal City and Kabarole District holding prayers to "pray for unfulfilled government pledges."
West Rwenzori police spokesperson Vincent Twesige identified detainees as Rev Willy Muhanga Kintu, David Musinguzi, Patrick Amanyire Kasoro, John Chris Tusiime, Henry Kyomuhendo Atom and Thomas Kakuru.
Twesinge said they received intelligence information five days ago about a planned demonstration organized by Rev Muhanga and others who were mobilizing 10,000 people to match across Fort Portal City crusading against unfulfilled pledges by President Museveni.
"We tried to engage them in dialogue but they refused to listen. Today (Wednesday) at 09:30 am the organizers stormed NARO offices at Kyembogo with intentions of attracting large crowds to vandalize property, cause damage to lives, threaten employees of NARO and most importantly on their agenda was to discredit the image and name of the government. We arrested the group to help with investigations," he said.
According to him, protest organizers listed listed unfulfilled pledges that include the construction of Kijura Road, an industrial park at Kyembogo, reconstruction of Buhinga Stadium as well as construction of Saaka and Kazingo security roads.
The suspects were due to be arraigned before in court on March 30.
"Police recovered exhibits in form of drums, horns, posters and a numberless Mark II vehicle which are at the police station," police said.
About the pledges
In 2012, President Museveni pledged to tarmack the 30km Fort Portal-Kijura Road.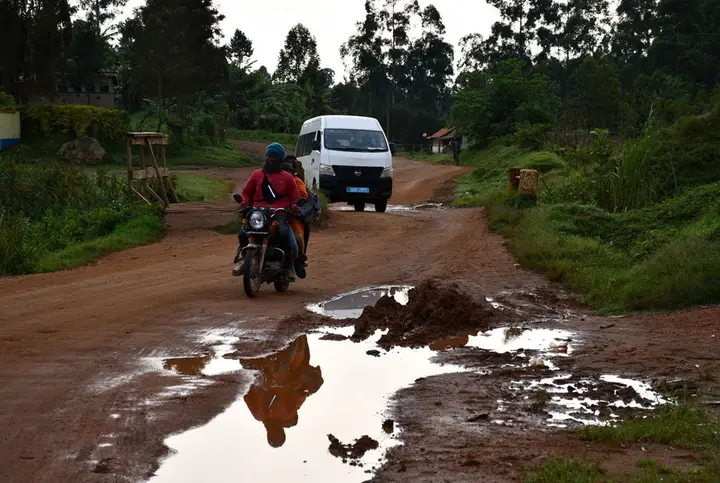 In 2013, Mr Museveni reiterated the promise while meeting district leaders from the Rwenzori Region at his country home in Rwakitura.
In 2021, the same road appeared in the ruling NRM party manifesto but until March 30, the road has only been under maintenance by Unra although it becomes terrible on a rainy day.
Under the Operation Wealth Creation (OWC) programme, Ugandan authorities commissioned the intended Kabarole Agro-Industrial Park in 2018.
But four years later, the construction has stalled due to a land dispute between Kabarole District local government and the land occupants, Rwebitaba Zonal Agricultural Research and Development Institute.
Meanwhile, the industrial park was supposed to be constructed on 100 acres of land, few meters away from Rwebitaba ZARDI headquarters.
The industrial park had to be implemented under the agri-led programme for the Rwenzori region, purposed to do achieve value addition on agricultural products.
Do you have a story in your community or an opinion to share with us: Email us at thestandard256@gmail.com
Or WhatsApp Us on +256750474440